Wouldn't it be nice to know that every member of your Plano dental team held fast to the same ideals and sense of honor when it comes to patient care? A family-owned practice can really help ensure that all of your caregivers are on the same page. It's why so many families, generation after generation, have counted on Aduddell Dentistry. 
When Dr. Patrick Aduddell established his Plano, TX practice in 1985, he began with the motto, "I will never recommend to a patient something I would not recommend for myself." 
It's a motto his son and partner, Dr. Kevin Aduddell, has adopted as well. Both father and son are passionate about offering their patients the best care possible. 
Not surprisingly, that passion is contagious, and now the youngest son, Dr. Scott Aduddell, has joined the practice as well.  
This is a family dedicated to healthy, sound, happy smiles…and that's a legacy we are not willing to ever put aside or forget.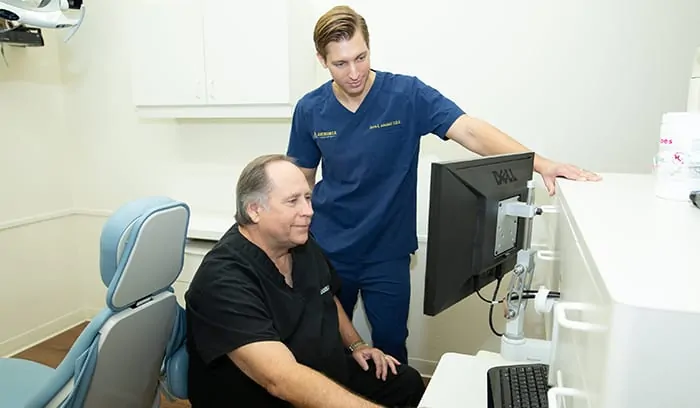 Clear and Open Communication for the Whole Family
Our family of Plano dentists believes in educating our family of patients. Why? Not only is transparency important to trust, but it is also important to put the power of preserving your smile in your hands. 
The best way to keep your mouth healthy and strong is by understanding exactly what is going on in your mouth, how to treat it, and how to prevent problems in the future. Knowledge leads to peace of mind – and that's what we want for our patients young or old.
We also believe in scheduling enough time to provide you with our undivided attention. We understand how frustrating it can be to leave an appointment, only to remember all the questions you had after you drive away. When you don't feel rushed, you can take your time, think things through, and get all your questions and concerns dealt with. Being heard is an important part of getting healthy!
Gentle Care Without Compromise
Aduddell Dentistry thinks our Plano neighbors should have care that is entirely focused on them. 
Dentistry that takes their personal needs into consideration every, single visit. 

A dental team that's compassionate and gentle with patients of all ages. 
It's just how we do things. It's part of our family tradition. Our patients love us for it. And it has won us awards such as Plano's Best Dentist! 
But no matter how happy our patients are with the care they receive, we never rest on our laurels. Instead, we keep right on learning, growing, and investing in our patients by investing in advanced technology and the finest materials.